2021 Mazda CX-5 Safety Update
The 2021 Mazda CX-5 is the only small SUV to rank "Good" in a new IIHS Side Impact Preliminary Test
Starting in 2023, The Insurance Institute for Highway Safety (IIHS) will be implementing a more severe version of the current side impact test measured on vehicles today. Side impact collisions are one of the more dangerous occurrences when it comes to vehicles crashes and the IIHS is asking automakers to up their vehicle safety expectations in this category to cut down on fatalities.
The newest side impact test will feature the impact vehicle traveling at a higher rate of speed (37 mph compared to 31 mph) and a new barrier weighing 4,180 pounds (similar to the weight of a midsize SUV). These changes result in 82% more energy involved in the collision.
See how the test works:
Test results by category below:
Test Results
In a preliminary test, the only vehicle to score "Good" was the 2021 Mazda CX-5.
See how the scoring broke down below:
Good (1): 2021 Mazda CX-5
Acceptable (9): Audi Q3, Buick Encore, Chevrolet Trax, Honda CR-V, Nissan Rogue, Subaru Forester, Toyota RAV4, Toyota Venza and Volvo XC40
Marginal (8): Chevrolet Equinox, Ford Escape, GMC Terrain, Hyundai Tucson, Jeep Compass, Jeep Renegade, Kia Sportage and Lincoln Corsair
Poor(2): Honda HR-V and Mitsubishi Eclipse Cross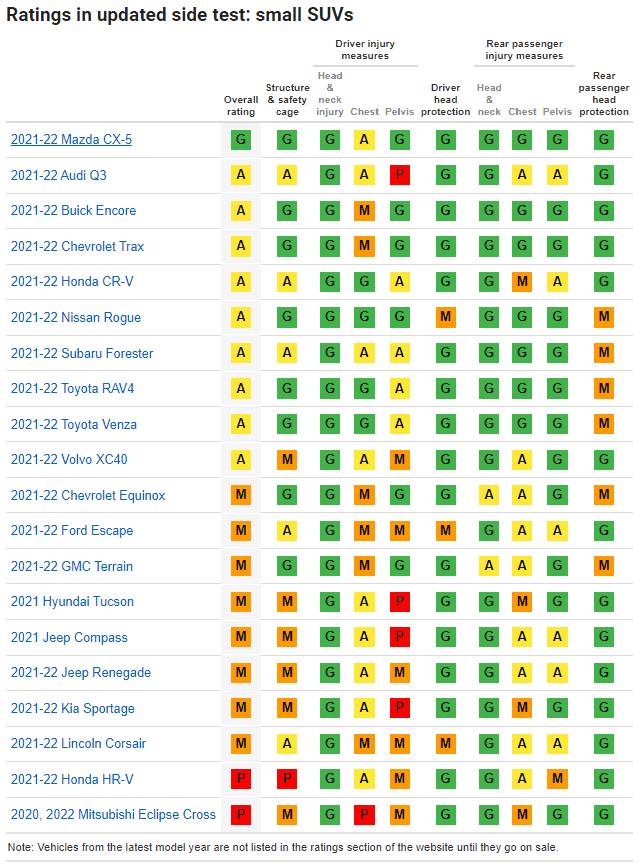 Mazda prides itself on making the most reliable and safest vehicles on the road today. At Walser Burnsville Mazda in Burnsville, MN, we have a great selection of 2021 Mazda CX-5's, as well as the other great CUV's that make up the Mazda family.
Read more about the new side-impact safety test: iihs.org/2021MazdaCX-5